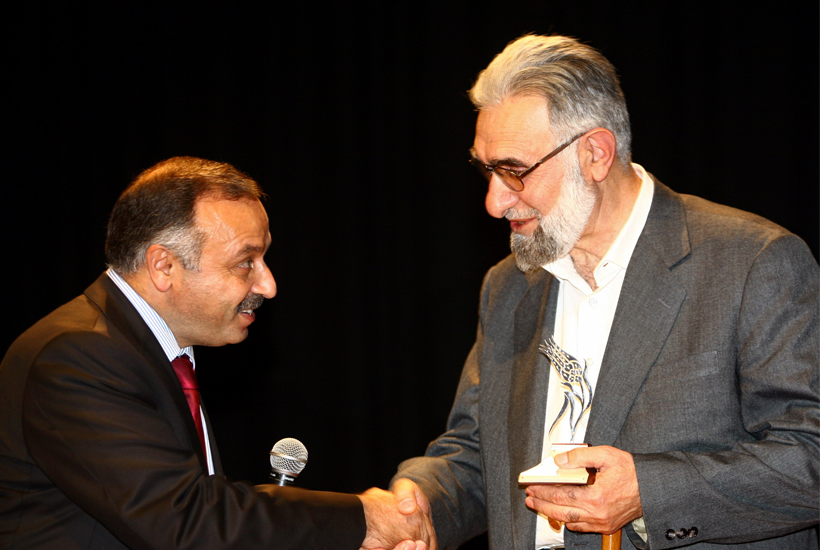 Hasan Çelebi's style, which combines the special style descending from Hafız Osman and Rakım with Hamid Bey's effect, reaches a distinguished quality and signs a zenith level of his own artistic, personal style.
In his artistic style, he embraced a composition principle in which the ease of reading is brought forward, without compromising dimensions, balance and the measures of the letters.
From time to time, in his compositions we see some letters used in a reversed order to catch a symmetrical balance as in compositions made in the 'Musanna' style. The translucent stain of Çelebi's ink left on the paper reflects how the -swift and curvy- skilfull moves unify with the pen, and draws attention to the simplicity of the letters in its transparency, far from any mistakes.
Hasan Çelebi, one of the exceptional personalities living the traditional style in modern times, bridges the art of the past and today with his encompassing calligraphic style in his art life which exceeds 40 years.
Hasan Çelebi was born in Oltu, a district of Erzurum in 1937. He started his duty at Directorate of Religious Affairs in 1956 in Üsküdar Mihrimah Sultan Mosque. Until his retirement as an "imam" in 1986, he served in several other mosques.
With encouragement and guidance he received from Halim Özyazıcı, Hasan Çelebi started to study calligraphy in 1964. After his teacher's demise, he began to receive "sülüs" lessons from Hamid Bey. Afterwards, he started to take "rik'a" and "ta'lik" lessons from Kemal Batanay in 1966. He received license of art (icazet in Turkish) from Hamid Bey (sülüs-nesih) in 1971 and another license of art from Kemal Batanay (ta'lik) in 1980, both confirming his talent and mastery in sülüs, nesih and ta'lik disciplines.
He started to give calligraphy lessons first in 1976. He gave licenses of art both at home and abroad to more than 50 students until today. He is internationally renowned as the calligraphy master who trained the most number of students.
He takes place as a Jury member in the international calligraphy contest held every three years by IRCICA of The Organization of the Islamic Conference, and furthermore, many other international contests held in the countries like Dubai, Qatar, Malaysia and Iran. He opened and attended several exhibitions both in Turkey and abroad.
Governments of Dubai and Kuwait granted him honorary awards because of his significant service and contributions to the art of calligraphy. He was awarded the "Superior Service to Art Award" in 2008 and selected as an Honorary Member to Hosnuvisan Council in Tehran in 2009.
He completed the restoration of the calligraphic texts in Sultanahmet, Hırka-i Şerif and Bayezid mosques in Istanbul, the Tomb of Cem Sultan in Bursa, and Masjid-i Nabawi in Madinah, Saudi Arabia. He prepared various calligraphic scripts for several mosques in Turkey and abroad.
He prepared special collections, and designed "tughra" style signatures and compositions for some statesmen. He wrote the surahs of Ya Sin, Al Fatih and Al Waqiah in the style used in "fermans" of the Ottoman Sultans. Also, his works in various styles and compositions take place in several private collections.
On the occasion of the 550th anniversary of Istanbul's conquest, a special album compiling his works was published by the History and Nature Foundation.
The Silver Tulip Award was granted to Hasan Çelebi in 2007 because of his works and precious contributions he made to the art of calligraphy by training numerous artists.