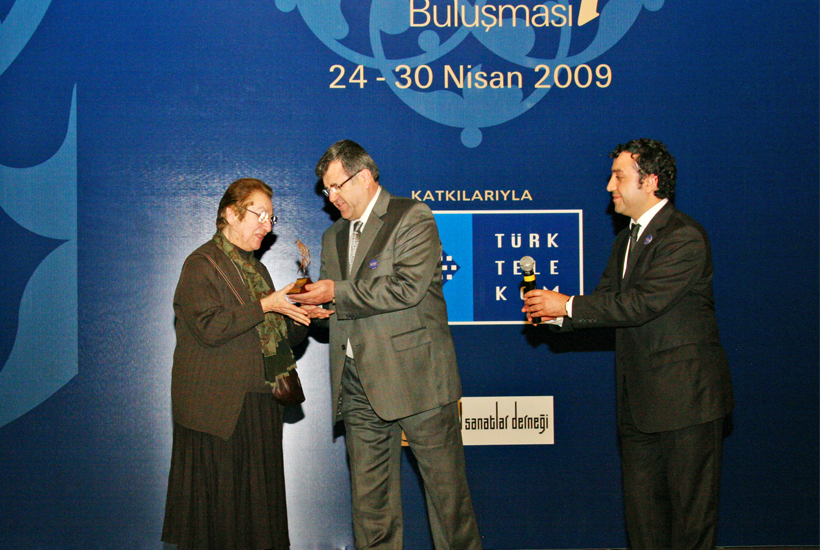 Cahide Keskiner was born in Istanbul in 1931. She started studying Illumination and Miniature Painting with Prof. A. Süheyl Ünver in 1953, took lessons of Calligraphy from Macid Ayral, and lessons of painting from Şeref Akdik.
She was appointed as Turkish Decorative Arts Expert at the Yıldız Porcelain Factory in Istanbul. She established The Workshop of Turkish Decorative Arts there. She began to work in Mimar Sinan Fine Arts University as a lecturer in Traditional Turkish Decorative Arts Department in 1982.
She also taught in the training courses organized in Topkapi Palace Museum and served as a Chairwoman of the board there. In addition to six personal exhibitions, she also participated in several exhibitions organized in Turkey and abroad.
She was granted the "Great Mevlana Award" in 2000. She has several other awards, testimonials and plaques from various institutions. Her books including "Türk Süsleme Sanatlarında Desen ve Motif (1987)", "Türk Motifleri (1989)", "Turkish Motifs (1991)", "Çocuklar İçin Türk Motifleri ile Çizim ve Boyama Kitabı (1990)", "Hatâi (2001)" were published.
Honoring her 50th Year in Art, her works were compiled and published in a special book under the name "Book of Miniatures" by Zeytinburnu Municipality. She continues her works in "Keskiner Illumination and Miniature Workshop".
Silver Tulip Award was granted to her because of her books, works, and precious contributions to the art of miniature and illumination by the students she trained.